As adults, we imagine relaxing activities in the context of going to take a walk surrounded by quiet and nature, or soaking in a bubble bath with soft music and candles. We seek calm in a place of our own, free from distractions and unwanted noise.
For many students, school is a safe and familiar place where there are established routines and food is a guarantee. And unfortunately, we know there are students whose homes are sometimes not any of those things. So while we as educators make every effort to mentor and support our students in a safe environment in every way possible, we must also consider how to create personal spaces for when the world becomes too overwhelming.
On top of all of this, we're in the midst of a global pandemic. Enter the Calming Corner.
When students experience frustration, or are pushed to a breaking point, they need tools, resources, and physical space to refocus and redirect their energy for their own wellbeing, and for the benefit of the greater class. A calming corner is a place where a student can go to relax and find their calm. Here are some items you can include in your own calming corner:
Note: some of these downloads are exclusively available to VariQuest customers on the VariQuest Resource Center. Don't have an account yet? Register right now!
---
Decorate With Comforts of "Home"
Students need to be comfortable during their time here, so they'll need a bean bag, floor cushions, foam mats, pillows, or a soft rug to designate this space of their own. Wall visuals can include beach, mountain, or calming "nature" scenes. If students are younger, a friendly and soft stuffed animal or two can provide a comforting "hug" when they need it. Consider using a wall partition or room divider to keep distractions to a minimum when a student is trying to calm down in your new corner.
---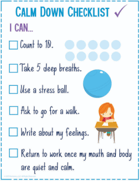 Calm Down Checklist
Place this Calm Down Checklist poster in your calming corner to give students a series of steps to go through, to find their calm and come back to their workstations, ready to rejoin the class. This is especially helpful when a difficult task or tense interaction may have frustrated the student, and they need to take steps to regain self-control. Items such as a squishy ball, pens and paper, and coloring utensils will be helpful to complete these activities. Print your poster using the VariQuest Perfecta® Poster Design System!
---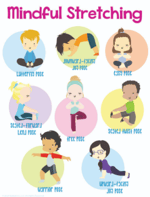 Yoga Mat
Stretching isn't just good for physical wellbeing; the focus and breathing it requires is good for mental health as well. Place a yoga mat, along with this Mindful Stretching Poster in your corner to give students ideas for some exercises that will help them re-center with limited movement area (and remind them to breathe deeply!) Consider including affirmation phrases to repeat in their heads while they stretch - or tell them to count to 10 while holding each position to maintain focus and provide a goal.
---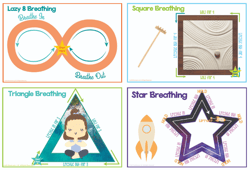 Breathing Boards
Focusing on breathing slows your heart rate and lowers stress, so you can use breathing boards to help students settle down while making it fun and interesting! Download these breathing boards from the VariQuest Resource Center - or download our Mindfulness Toolkit created by Dr. Melissa Hughes, to place them in your corner! You can also laminate these boards with the VariQuest Cold Laminator 2510 to allow students to use whiteboard markers to trace their progress, and wipe clean afterwards!
---
And of course, the possibilities are endless. You could provide coloring pages, a music player with headphones, or books and magazines as other calming activities. If you want to keep a student's time in this corner to a limited duration, consider including a timer that sets an expectation of how long they can enjoy their calming activities.
At the end of their duration, you may want to do a check on the student to determine whether their time in the corner was well-spent. Asking questions such as, "How do you feel now?" and "What can we try for next time?" helps a student sort through their feelings and critically think about what is most helpful to keep their cool.
Interested in learning more about how the VariQuest Suite could help you build a calming corner (and so much more) in your classroom? Contact us today to request a no-obligation demonstration of our tools with an expert education consultant who would love to help solve your school's toughest challenges!