Subscribe to the VariQuest Blog & Receive Our Free Grant Writing Guide!
The VariQuest Blog is full of helpful tips, lesson plans, educational insights, and more - and we don't want you to miss a thing! Subscribe to our blog and receive instant updates every time we post new content! But wait, there's more...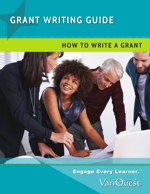 Your mission is to make a difference in developing your students, and our mission is to help you do it. That's why we've developed a Grant Writing Guide - to ensure your students receive all the necessary tools and supplies to ensure their success, using funding from all available sources - and it's free for all our blog subscribers! Learn more about:
Common grant opportunities
A checklist (with samples!) of items to prepare for grant-writing
The process for grant application
Helpful links and resources to search for, and obtain funding!