Download a Free STEM Coloring Poster!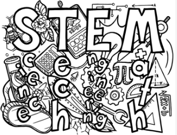 Inspire future careers in the STEM fields through this calming, fun coloring activity.
Coloring has been shown to reduce stress and anxiety in the brain - a perfect activity for this difficult time. Plus, you can spark creativity and inspire future STEM careers with this printable coloring page poster - free for you!