What is the Difference Between Hot and Cold Laminating?
Depending on your particular requirements and budget, you may want to use hot or cold lamination to laminate materials. Items that are subject to cold lamination are placed under pressure, while hot laminating may damage certain items due to applied heat. Each technique, however, uses a film to laminate the material, and the strength of the lamination and its durability depend on the thickness of the film used. Lamination also provides wipe-clean surfaces for your materials, making them easy to frequently disinfect.
At VariQuest, we offer an energy-efficient, easy-to-use cold lamination machine, the Cold Laminator 2510, to help you preserve and protect banners, posters, and bulletin board cutouts for repeated yearly use.
Hot Lamination

The process of hot lamination utilizes a heat-activated adhesive that is heated up as it travels through the laminator. A huge disadvantage of hot lamination is that some items cannot be subjected to the heat that occurs in this process – photographs are one example. Paper with ink from an inkjet printer is also not suitable for hot lamination since the ink on the paper may melt during the process. Hot lamination also takes more time to complete than cold lamination since the machine needs to heat up before the process begins.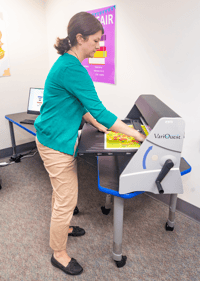 Cold Lamination

With a cold lamination machine, a pressure-sensitive adhesive is used that does not require heating. This type of laminator utilizes rollers that compress sheets of lamination together. These laminators are easier and faster to use than hot lamination machines. They can be used safely for the lamination of virtually all flat items.

Cold laminating can be used for all types of documents, the process takes just a few minutes to complete and it does not take a highly trained professional to use our Cold Laminator 2510. These are safe machines that require little maintenance, helping save on long-term cost.

The choice of whether to use hot or cold lamination may be based on several considerations, including who the users of the machine will be, the end of products required from the machine, and the available budget – but the VariQuest Cold Laminator 2510 is your best bet for ease-of use, safety, and versatility. Read more about the benefits of cold lamination here.

To learn about the various tools we offer – including our cold lamination machine, the Cold Laminator 2510 – for the creation of visual aids and teaching templates in the classroom, request a no-obligation demonstration with one of our expert education consultants, or give us a call at 800.328.0585 or email us at variquest@variquest.com