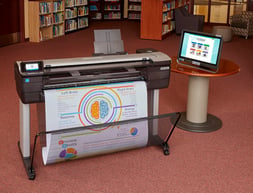 Wish you could scan your completed graphic organizer and easily email it to the class? Want to enlarge your students' pencil artwork to display in the hallway? Looking to connect with parents as they walk in the entrance with a colorful welcome banner? Do all that and then some with a cool brand new tool made just for schools—VariQuest® Perfecta™ 3600STP!
WHAT IS PERFECTA 3600STP?
VariQuest has extended the Perfecta product line with an industrious printer (without the industrious size). We're introducing the only scan-to-print full color printing system that exists to support and improve school-wide communication. Whether you're differentiating instruction via colorful infographics, promoting district-wide initiatives through engaging posters, or boosting school pride with spirited banners, you can send the right message to the right audience with ease. Perfecta 3600STP has a fully-integrated scanner, allowing users the ability to both shrink and enlarge scanned pieces ranging from 6" to 36" wide. Maximize your value by adding the optional VariQuest Design Center, a touch-enabled workstation storing thousands of education-based templates and graphics, making poster-designing a cinch.
WHY CHOOSE PERFECTA 3600STP?
Like the entire suite of solutions, the Perfecta™ series was designed exclusively for K-12 education. From reinforcing key concepts to fostering parental involvement, Perfecta 3600STP has a wide array of school uses, including but not limited to:
Applying instructional scaffolding with graphic organizers
Monitoring student progress with development charts
Promoting academic achievement with photo recognition posters
Differentiating instruction with infographics, diagrams, and mind-maps
Enlarging and displaying student artwork with ease
Scanning graphic organizers and printing smaller copies for student portfolios
Building school spirit by promoting student organizations and sports teams
Fostering a sense of community with custom event posters, banners, and big heads
Promoting project-based learning by creating products for student-based enterprises
While wide-format printers are easy to come by, not all are easy to use for schools. What makes
Perfecta 3600STP the top choice for educators nationwide?
Comes complete with the award-winning VariQuest® Design Center Software, loaded with thousands of educational templates and graphics to save schools time and resources associated with the creation of handmade or outsourced materials.
Scan a small document to print poster size, and vice versa. Want real ease? Use your smart phone for quick mobile printing.
Print any PDF in seconds—software will automatically adjust paper size setting to match loaded media.
Ink cartridges are purposely sized to produce low waste at a low cost.
Plug your USB drive into your printer to quickly print a saved image, or save a scanned document to an electronic version.
Effortlessly wheel your printer from classrooms to workrooms thanks to its portable stand and efficient footprint.
VariQuest provides continuous support through dedicated technical support reps, friendly customer service, and additional resources on the VariQuest® Resource Center.
Whether you're looking for a printer that can make a massive impact with integrated scanning capabilities, or you're searching for a more compact solution with the same ease of use in poster printer, the Perfecta™ series has what you need to let your walls do the talking. Learn more here!