The newest additions to the VariQuest suite of solutions provide endless options for creating on-the-spot school-wide communication, recognition, and student engagement materials.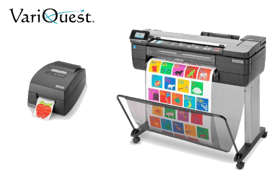 (Brooklyn Park, MN) March 23, 2018 — Varitronics, creator of the VariQuest® suite of solutions and leading provider of visual and kinesthetic learning tools for the K-12 market, is pleased to introduce two new products to its robust line of educational offerings to promote student achievement, student engagement, and further schools in their pursuit of STEM and CTE development – the Perfecta® 2400STP and Motiva™ 400.
The Perfecta 2400STP, the latest model in the Perfecta line of poster design system printers, has all the functionality of the revolutionary Perfecta 3600STP, in a more compact size perfect for any school workroom. Its fully integrated scanner, mobile printing abilities, and direct USB printing and saving serve to improve school communication, differentiate instruction, bolster academic achievement, and enhance fund-raising efforts.
The Perfecta 2400STP can scan documents up to 24 inches wide to convey a school's brand, while giving the flexibility to scan small-to-big or big-to-small, all with minimal setup and a single power cord. Users can also print directly from a smart phone or tablet - and for connectivity there's Wi-Fi Direct, enabling the printer's own Wi-Fi hotspot that doesn't require the use of a school's network.
The Motiva 400 is a brand new full-color specialty printing system in the VariQuest line, perfect for recognizing student accomplishments, promoting academic progress, and building self-confidence with motivating, full-color awards, flashcards, and stickers. With over 700 pre-made, customizable templates designed specifically for education, its pigment ink cartridge creates durable output resisting smudging, scratching, fading, and water – and is suitable for short or long-term applications – with uses including award plaques, bumper stickers, parking permits, study aids, and much more.
"VariQuest's mission is to engage every learner in reaching their potential, and we're confident these new additions to our product line will help schools do just that," said David Grey, CEO of Varitronics. "Both products draw on thousands of design templates in our VariQuest Design Software, giving schools the tools necessary to tackle their toughest challenges. The Perfecta 2400STP creates engaging visuals, organizers and posters, while the Motiva 400 reinforces student achievement with instant recognition – and both include possibilities to expand beyond the school building to reach the entire learning community."
In addition to the VariQuest Design Software, which is included with every VariQuest solution, VariQuest provides free online resources for its customers through the VariQuest Resource Center, which includes additional design templates, lesson plans, professional development opportunities, training materials, customer support, and much more.
For more information about the Perfecta 2400STP, Motiva 400 and complete suite of VariQuest solutions, visit www.variquest.com.

About Varitronics
Varitronics supports educators and engages every student in their quest for learning by providing easy-to-use visual and kinesthetic learning tools. Our VariQuest® suite of products includes the award-winning Perfecta® Series Full Color Poster Printers, Trifecta™ 800 3D Printer with STEM curriculum, Design Center (powered by VariQuest Software), Cutout Maker, Poster Maker, Motiva, and Cold Laminator. Educators use the tools to differentiate instruction, improve student achievement, and increase student engagement. Our vision is to build a brighter future for every learner by providing tools that transform the learning environment. For more information about VariQuest Visual & Kinesthetic Learning Tools, visit www.variquest.com.


Press Contact:
Katie Crawford
Varitronics, LLC
katie_crawford@variquest.com
(763) 536-6447