"If you build it they will come"- Field of Dreams, 1989. Dan Hurley, Director of Discovery Charter School in Inver Grove Heights, MN had the same dream in 2014, although not for a baseball diamond in his field, but rather a school to embrace a multidisciplinary curriculum with an emphasis on Science, Technology, Engineering and Mathematics (STEM). His vision was to prepare K-8 students for life-long learning, collaboration, critical thinking and problem solving. Just over one year ago his dream became a reality, and now over 200 students are engaged in an environment that values creativity, diversity, and multiculturalism. With Dan's vision a partnership also ensued with VariQuest and Trifecta™ 800 3D Printer, and STEM Fuse, a leader in K12 digital curriculum.

Dan knew in order to fulfill his dream he needed to build his 'Dream Team'.
VariQuest— Provider of Trifecta™ 800 3D Printer designed exclusively for schools to seamlessly incorporate 3D technology in the classroom, and bring lessons to life.
STEM Fuse— Premier developer of K12 digital curriculum, including STEM:IT that addresses the needs of kinesthetic, visual, and auditory learners, while incorporating 21st century skills that instill real-world critical thinking, and innovative problem solving.
Talented Staff— 22 and counting... including Jennifer Roberts & Mikayla Curtis, 4th-6th grade teachers involved in 3D curriculum mapping, sequencing, pacing and lesson planning.
Now students grades 4, 5, and 6 are busy

asking, imagining, planning, creating, improving, and communicating

all in a digital and physical capacity.


"The printer [Trifecta 800] allows for a higher order of critical thinking, and the curriculum provides an opportunity to see things in real life", says Mr. Hurley. "It's like a piece of art; you build it, print it, and see it, then relate it to the curriculum."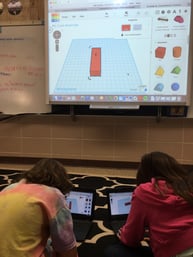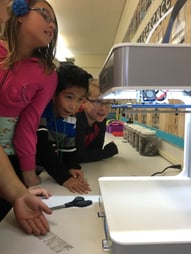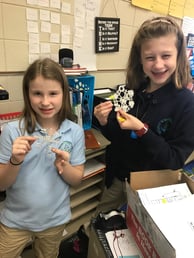 Here's what Mikayla and Jennifer, teachers instrumental in engaging students with 3D technology, have to say about the Trifecta 800 + STEM:IT offering-
"It has given kids who don't take an interest in school, or are struggling academically, the chance to be leaders in the classroom through their creativity."
"It's a huge motivation to problem-solving, giving them the skills to make mistakes and learn how to fix them."
"Learn more by doing— how to process emotions, frustration, disappointment and elation."
"Community building in the classroom— [students] enjoy helping one another."
So what have their students been up to as of late?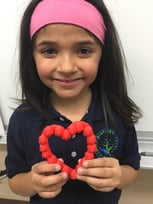 Plenty! Over Christmas they were busy little elves designing and creating snowflakes with their names on them, integrating design elements from both Tinkercad® and STEM:IT. In February, students created hearts from a design they saw online with wire, as a 3D print, giving each design a beat of its own. This month they're incorporating The Westward Expansion STEM:IT lesson into their social studies curriculum, creating a cup and ball toy from Trifecta 800— a game pioneers played on the trail. All of these hands-on activities help develop critical thinking skills by giving students the power to take their creative ideas and workout the logistics. With peer collaboration they work through the process of how to create something, and what to do when it fails.
Jennifer (5th/6t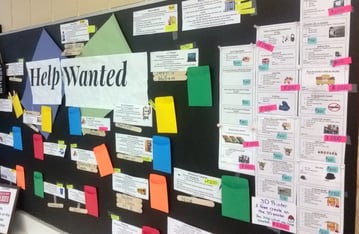 h grade teacher) is also using the fascination and excitement of 3D printing to reward her students, while teaching money management skills with her "Money Board". What's that you ask? It's an opportunity for students to apply for certain classroom jobs, i.e- P.E. Helper, Game Organizer, I.T Person, etc., and get paid. The money earned can then be used to purchase treats/privileges from the money board. The most expensive reward on the money board is the opportunity to design whatever 3D print they'd like and watch it come to life on Trifecta 800. Students are diligently saving their money to purchase this activity!
Finally, the students in both Jennifer and Mikayla's classes are paying it forward with


their knowledge of STEM:IT and 3D printing, by creating circles and cylinders printed from Trifecta 800 to help 1st & 2nd grade students with experiential learning in the study of shapes and attributes.
Meet Discovery Charter School and watch their online story!
Want to learn how to implement Trifecta 800 + STEM:IT in your school to integrate project-based learning, and increase student engagement? Click below to set up a personalized demonstration!
Tinkercad® is a registered trademark of Autodesk®.
All other brand or product names referenced are trademarks or registered trademarks of their respective companies or organizations.