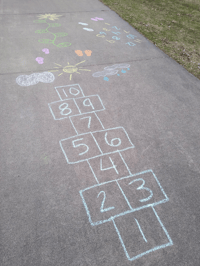 Sensory paths are often used in school building hallways or classrooms to help students release energy, enhance focus, learn, and of course - HAVE FUN in the process. In this time of virtual and distance learning, we thought - what a great idea to give the project to students to create their own "math path" - combining STEAM methodology with kinesthetic learning!
Knowing that not all students have access to sidewalk chalk and pavement, this activity can be recreated by cutting out paper shapes for the floor, placing tape on the carpet, or playing "architect" and designing their sensory path with just pens/crayons/markers and paper.
Thinking about STEAM, or Science, Technology, Engineering, Art, and Mathematics, the possibilities are endless to weave in multiple concepts as students plan to hop, jump, and spin across the floor. Consider encouraging the following elements to spice up an otherwise numerical lesson: lily pads, snakes, weather elements, bugs, flowers, or geometric shapes.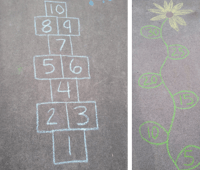 Path Element 1: Have students start with some kind of basic hopscotch - you know, the one you remember from when you were a kid? Ask them to write about how the participant should perform the activity of throwing a rock across the plane and and skipping that number as they hop through, or make it more challenging using multiples of a specific number, then practicing multiplication tables as they throw the rock to skip the number rolled. You could even add throwing dice into the mix!
"Break": In-between elements, have students add a "physical activity" like footprints for shoe hop spots, or a spinning arrow circle to twirl around 3 times before continuing on.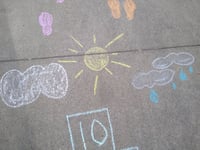 Path Element 2: Next, add in a "trivia" activity. Have students draw 3 choices for where they'll land - maybe it's "types of clouds you'd experience in xyz weather" or "facts about condensation" or "which tree does this leaf belong to?" Have them create a series of questions that someone participating on their sensory path would have to answer, to know where to jump to next. Ask students to decide what happens if the participant would get the question wrong, and then what happens when they get it right!
"Break": And again, another jump, spin, or creative "active" step in-between!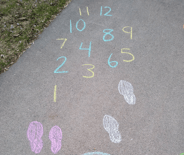 Path Element 3: Finally, have students add another math-related exercise. Maybe it involves jumping between even and odd numbers, reciting multiples of the number they land on, or sharing a math problem whose answer would be that number.
Ask parents to take a picture (or the parent could participate in the path!) and have students write about what they created, and why they chose the different elements - to take control of their learning, and ensure there are active activities in their days!
Allow students to change up the order, however they see fit - but require the 3 basic elements and "active breaks" in-between. Remind them of recent math lessons you've gone through, to give ideas on what to practice in this path. You'll love what your students come up with - and maybe one of their "paths" will make its way into your classroom next school year!
For when you're back in your classroom, the VariQuest Cutout Maker 1800 Digital Die-Cut System is a great tool for creating sensory paths with its vinyl cutout material. Schedule a virtual no-obligation consultation with one of our dedicated Education Consultants to learn more about how it could work for you!
Have content you'd like to see from VariQuest, during these times of social-distancing in education? Comment below and your idea could be our next blog post!