The 2015/2016 school year was one for the books (an open-educational-resource book, that is). With the federal government embracing a rather laissez-faire approach toward education, with the student learning experience shedding its spectator skin for a more "doing" dermis, and with the virtual world continuing to grow in opportunities (for better or for worse), VariQuest has highlighted the top 5 topics in education.
1. The Maker Movement
We've said it once (or twice, or 100x over) and we'll say it again, the maker movement is crucial to ameliorating student learning. By incorporating elements of the DIY (Do-It-Yourself) movement, constructivist philosophy, whole-brain thinking, and even the STEAM initiative, this movement has taken students from passive participants, even sedentary spectators, to diligent doers. The International Society for Technology in Education (ISTE) notes several common elements of successful makerspaces:
They promote learning through play and experimentation

They're cross-disciplinary, with elements of art, science and craftsmanship
They offer tools and materials that encourage students to create rather than consume
The emphasis on making has been building this school year, and we only see that momentum increasing for 2016/17. And hey, don't forget to check out our webinar From Classrooms to Makerspaces on May 11 at 9am CST so you can become the expert behind your classroom's makerspace.
2. Digital Citizenship
Whether you know it as digital wellness, digital ethics, or digital citizenship, there's no denying the importance of this netiquette in schools. Digital citizenship was birthed at a time when no one, let alone educators, knew how to handle the vastness and permanence of the internet. Despite intense cybersecurity districts uphold, some say we're still at a loss when handling students' cyber struggles. From attacking peers online, to posting inappropriate selfies, to conversing with predators incognito, digital citizenship has made its way to the top of schools' radars for obvious reasons.
Interested in learning more? Check out our post on cyberbullying where you can also download a free poster.
3. Over-testing
We've all heard the parental cries and student woes related to America's alleged over-testing issue. According to The Washington Post, "the average student in America's big-city public schools takes some 112 mandatory standardized tests between pre-kindergarten and the end of 12th grade — an average of about eight a year, the study says. That eats up between 20 and 25 hours every school year...As for the results, they often overlap. On top of all that are teacher-written tests, sometimes taken by students along with standardized tests in the very same subject."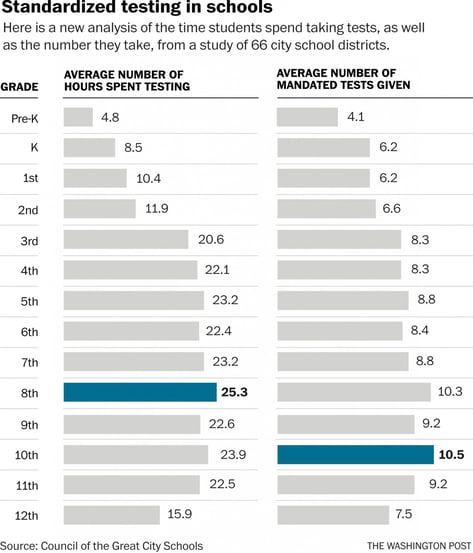 But what about China? The Netherlands? Japan? Belgium? Take a peek into these school systems, and American students are surprisingly under-tested when juxtaposed to their top-tier peers. Maybe a reform of NCLB is in order to revisit our over/under-testing debacle?
4. Every Student Succeeds Act
And with that fitting segway from over-testing, we bring you the Every Student Succeeds Act (ESSA). Having just been signed into law in early December 2015, the buzz has been building slowly but surely. Yet to many, the buzz is nothing other than buzz—an indistinguishable sound that brings about no productive dialogue being that, well, it's buzz.
Why? Talk to any educator, and more often than not, they'll be as knowledgeable on the act as I am on quantum mechanics (hey, I know enough to understand the implications of Schrödinger's cat!). And I don't blame them one ounce. ESSA's implementation is convoluted with language hinting at state autonomy and discretion, though we won't be able to fully understand the nearly-400-page bill until it's fully implemented next school year. Thus, it was one hot ed topic for this year.
5. Open Educational Resources
Unless you've been living under a rock, you know Open Educational Resources, or OERs, have become more and more popular for educators. They're cheap, even free in many cases, and customizable. These resources have been around since the 1990s, but current technology has propelled OERs to the mainstream. Because the structure of the educational system is exclusive by nature, the ultimate goal of open educational resources is to make high-quality education available for any person to access at little to no cost.
The William and Flora Hewlett Foundation defines OERs as:
"...teaching, learning, and research resources that reside in the public domain or have been released under an intellectual property license that permits their free use and re-purposing by others. Open educational resources include full courses, course materials, modules, textbooks, streaming videos, tests, software, and any other tools, materials, or techniques used to support access to knowledge..."
While there's controversy surrounding the legitimacy of OERs, especially its alignment to Common Core and other state standards, we firmly believe the popularity of these resources will build for school years to come.
Do you have an educational topic you want to see covered in our blog? Simply comment below!