This lesson plan is part of our partnership with two creative educators from The Curriculum Corner, bringing you free Common Core aligned lesson ideas, teacher resources, and templates you can easily print with your VariQuest® Perfecta® Poster Design System - just be sure you have the latest version of the VariQuest Software!

SELF AWARENESS LESSON PLAN / WRITING
INTERMEDIATE CLASSROOMS: Grades 4-8

My Soundtrack
Objectives:
Students will create a soundtrack list for their lives. They will choose four songs that share an important part of themselves.
Students will focus on one song and reflect on the words of this song and make personal connections to the song.
Students will explore the question "Who am I?" and then share their discoveries with the class. The end goal is that students will develop better relationships within the class a result of this activity.

Materials:
A current popular movie soundtrack that many students will be familiar with
My Soundtrack Printable Pages (choose which pages fit your class)
CD player and a song that you (the teacher) would choose to share an important aspect of your life

Click on each image to download the PDF and print as a poster using your Perfecta® Poster Design System!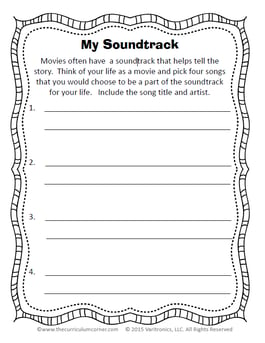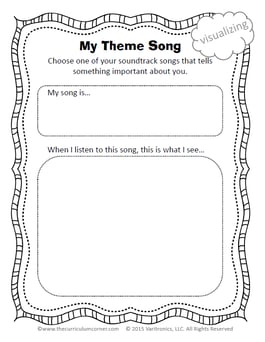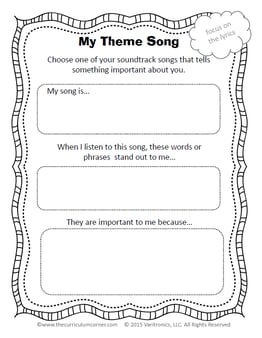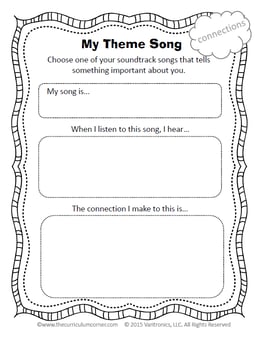 Preparation:
Create a soundtrack list for your life as an example to students.
Choose one song that you would like to focus on. Cue this song on your CD player so that you can share with students. Be prepared to share the connections you can make between the song lyrics and your life.

Mini-Lesson:
Pick a popular movie soundtrack to share. Play two or three songs and discuss how they tie into the movie. It is important that you choose a soundtrack and movie that many students will be familiar with for this lesson to work well.
Display the "My Soundtrack" page for your life on the board or share aloud. Briefly share with students why you chose each song.
Give each student a "My Soundtrack" page. Tell the class that they will be making a list of songs that could be a soundtrack for their lives. This part of the activity would be best completed at home so that students have time to listen and find songs for their soundtrack. You may want to emphasize that students should choose songs appropriate for school.
In class the following day, have students form small groups or join with a partner to share their chosen soundtracks.
After students have finished sharing in small groups or with partners, you will pull them together and model how you chose one song from your soundtrack to highlight. Share with students why you feel that is the most important song to your soundtrack, and then share the personal connections you can make with the lyrics.
Students will then receive the "My Theme Song" Graphic Organizer page you choose and begin thinking of their most important song. (If you feel like students are ready to write about their theme song without this step, it may be skipped. Or, if you choose to spend less time on the lesson, use only a graphic organizer in place of the follow-up writing activity.)
Once students have shared their thoughts on the graphic organizer, present the writing assignment as outlined on "Your Personal Theme Song" (downloadable PDF below). Again, this may best be done at home where students will have more time to listen to their song and think.
Finally, schedule times for students to share their song with the class. Not only will they learn about their classmates, they will receive important practice in public speaking.
*Special thanks to Anthony Sturgeon of Fishers Junior High School in Fishers, Indiana for sharing this idea with The Curriculum Corner and VariQuest!
Want to learn more about how the VariQuest Perfecta Poster Design System and Software could help in your school? Request a no-obligation demonstration with one of our expert Education Consultants and discover how VariQuest can help solve your school's toughest challenges!