"For students to learn to their full potential, the classroom environment must be of minimum structural quality and contain cues signaling that all students are valued learners."
Education and health reports have been abuzz with a new article, published in the inagural issue of Policy Insights from the Behavioral and Brain Sciences written by University of Washington researchers Sapna Cheryan, Sianna Ziegler, and Andrew Meltzoff, as well as University of California-Berkeley researcher Victoria Plaut.
The article takes classroom environment to a scientific and methodological place, including structural features such as:
Lighting:

Students exposed to more natural light perform better than students who are not

Temperature: The optimal temperature for learning is between 68-74 degrees
Good to know! What we found particularily interesting was the article's reference to what a classroom looks like. While some might think wall decor like posters aren't imperitive to learning, the researchers wrote, "Far from being trivial details, these features powerfully affect classroom culture."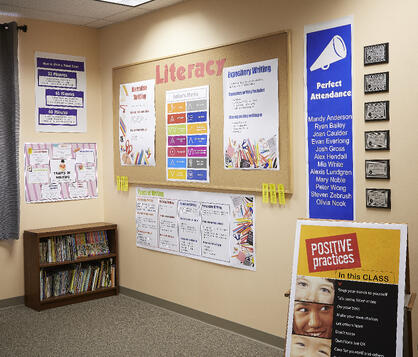 For example:
Classroom objects that depict the success of groups who traditionally face educational barriers (for example, photos of women scientists) can boost school achievement for these groups
Items that appeal only to certain students -- such as a large number of science fiction objects in a computer science classroom -- may discourage students who don't identify with those objects from taking those courses
"Token" symbols that represent certain groups of people -- for example, American Indian mascots -- can cause lower self-esteem in students from those groups.
VariQuest Visual Learning Tools have always believed strongly in the power of classroom environment and culture, and our products continue to evolve to meet the needs of teachers and school staff to efficiently create effective classroom visuals conducive to learning.
Here are some other resources you may find useful when considering school environment:
Interested in transforming your classroom into an engaging learning environment? Learn more about the VariQuest Poster Maker 3600 and award-winning full-color Perfecta 2400 Poster Design System. These printers and their accompanying software are designed specifically for educators.