Make Your School Life Easier with VariQuest™ Repositionable Paper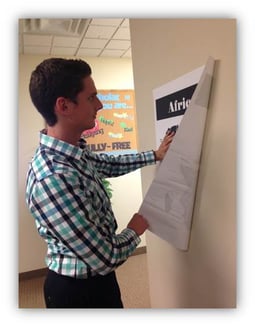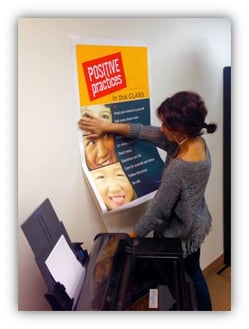 Easily display activities, diagrams, infographics, instructional signage and more with our new Repositionable Paper for Perfecta™ 2400, Poster Maker 3600, and ProImage® Poster Printer!
No more messing with tape that's impossible to peel off, sharp thumbtacks that leave noticeable holes, or messy glues that stick to everything. Teachers and librarians can conveniently print their posters and banners, immediately display them, and reposition them with ease. Decorating bare classroom walls has never been so effortless!
BENEFITS
Repositionable adhesive allows placement adjustments as needed without damage to paper or surface
Reapplications stay just as effectively as initial applications
No residue left behind
Adheres to most walls for three to four weeks on average
Mounting kit available to create foam core signs *kit only available for Perfecta repositionable paper
Wide range of uses
BPA (bisphenol A) free

USES
Commemorative month posters, such as Black History or Women's History month, where materials are needed for one month at a time
Upcoming school events and activities
Anchor visuals and graphic organizers
Temporary signage for indoor use and outdoor use (in normal weather conditions)


ADHESION
VariQuest™ repositionable paper adheres to most surfaces, including but not limited to wood, glass, whiteboards, foam core, metal, plastic and painted surfaces. Under normal conditions, paper will stick for three to four weeks, though poster can stay on some surfaces beyond 10 weeks. Specific paint finishes can affect adhesion, such as gloss or "eggshell" finishes. Fabricated walls found in cubicles are not ideal for adhesion. Reapplications within three weeks stick as effectively as initial applications with no residue left behind. To use, simply remove the poster's liner and smooth onto surface. If you want to preserve your poster, laminate your poster with VariQuest™ Cold Laminator 2510. Repositionable paper is meant for cold lamination only.


REPOSITIONABLE PAPER INFO
Perfecta repositionable paper:
o 24" x 100'
o Makes 35 posters from one roll
o Catalog #2410
Poster Maker repositionable paper:
o Black/White Direct Thermal Transfer (DTP)
o 23" x 75'
o Makes 26 posters from one roll
o Catalog #2305D
Poster Printer repositionable paper:
o Black/White Direct Thermal Transfer (DTP)
o 23" x 75'
o Makes 26 posters from one roll
o Catalog #3603-06
Interested in ordering your own repositionable paper for you Perfecta, Poster Maker, or Poster Printer, or want to learn more? Fill out the quick form below, and we'll be in touch!