Digital Die-Cut System Created Specifically for Schools
At VariQuest, we serve the needs of teachers and students in the pursuit of effective learning through the supply of easy-to-use visual teaching aids. After taking a look at the various academic tools we offer to help you enhance your classroom experience, you may find a number of solutions to help teachers teach better and students learn with greater success. The various types of teaching aids teachers and students can benefit from to achieve excellent results include presentation templates, visual posters, and more. The digital die cutting machine we offer can help achieve these goals.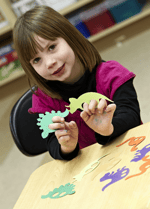 The Cutout Maker 1800
As a state-of-the-art electronic die-cut machine for teachers, the VariQuest Cutout Maker 1800 can help you make your lessons come alive with numbers, letters, shapes, manipulatives, and bulletin board collections that are automatically cut to the desired shape and size.
Curriculum-based Content is Included
Our Cutout Maker 1800 digital die cutting machine comes with free access to our VariQuest Resource Center which delivers curriculum-based lessons, content, and activities that complement the standards and practices in today's modern classroom. You can also utilize additional content options with a Premium Access CD (PACD) to improve your classroom activities even more.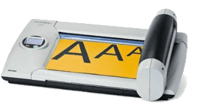 Benefits of the Cutout Maker 1800
Schools utilize the Cutout Maker 1800, the best die cut machine for teachers, to achieve the following in the classroom:

Explain complicated ideas and concepts through peeling cutout collections to increase the student's opportunity for success
Save time for teachers through the easy and quick creation of cutouts, manipulatives, and bulletin board presentations for an interactive, hands-on learning experience
Achieve a cost-effective, scalable, versatile solution with electronic die-cuts
Engage kinesthetic and visual learners with cutouts and manipulatives
Bypass the need to recut laminated cutouts with the ability to laminate a sheet of construction paper and cut the laminated paper electronically into the desired shapes
Develop word walls with words created by connecting letters automatically
To learn more about the best die cut machine for teachers in addition to the other kinesthetic and visual learning tools we offer at VariQuest, give us a call today at 800.328.0585, or send us an email at variquest@variquest.com. We'd love to give you a virtual demonstration of our learning and teaching tools!