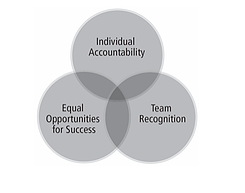 "The best way to learn is to teach." As Robert Slavin puts it, this is "the secret behind cooperative learning." So, what is cooperative learning? It is a form of classroom group work that educators deem extremely effective. Instead of competitive or independent goals in group work, cooperative learning emphasizes working together.
However, cooperative learning does not happen as soon as you put students into groups. Teachers must structure group work around several key learning activities:
Interdependence: Create positive interactions while working toward a common goal rather than splitting work evenly
Accountability: Rather than giving the group a blanket grade, cooperative learning emphasizes individual accountability within the group, preventing all the work from landing on one student
Leadership: Students share leadership roles instead of determining one leader
Social Skills: Rather than assuming social skills are already in place, teachers guide social interactions and make sure students are interacting in a healthy way
Group Evaluation: Instead of assigning a grade at the end of a project without further discussion, "Students are expected and typically required to assess their effectiveness in the group setting."
Quick example from About Learning:
"In Literature Circle, the reading group split up the jobs for the next meeting. Each student was assigned one role in the group, including Passage Picker, Discussion Leader, Illustrator, Summarizer, and Word Finder. At the next meeting, each student shared their assigned work. Taken together, the members of the cooperative learning group enriched each other's understanding of the book at hand."
Cooperative learning fuels engagement and gives teachers another option for effective group instruction. According to the Success for All Foundation, "Cooperative learning is one of the most powerful tools teachers have in providing the level of engagement and academic and social support their students need to be successful." As demonstrated by the chart above, individual accountability, team recognition, and equal opportunities for success are vital to making this learning style effective. Also, teachers might find cooperative learning especially intriguing, "since more of the responsibility for learning rests on students and teams, teachers are able to spend more time working with individuals and small groups of learners doing the kind of teaching that originally drew them to the field."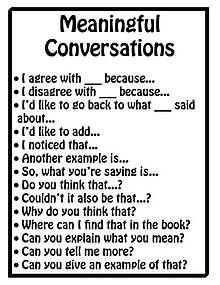 Student Benefits of Cooperative Learning:
Motivation to help one another learn
Practice meaningful conversations and interactions
Translate "teacher language" to "kid talk"
See situations and problems from different perspectives
Increased on-task time
Build friendships and relationships
Enhance communication and interaction skills
Setting ground rules for group work can be very important to cooperative learning success. Anchor visuals such as the one to the right can help students self-check their conversations and group efforts. This image is linked to a high-resolution PDF that can be printed and used in your own classroom.
How do you construct group activities in your classroom? We'd love to hear from you--leave a comment!