Butterfield Elementary School
Libertyville, Illinois
In teacher Joe Jarosz's third-grade classroom, students are busy with hands-on, visual learning – working with manipulatives, sorting cutouts and making their ideas come to life with colorful posters. Since the school purchased the Poster Maker, Cutout Maker and Awards Maker from VariQuest, Jarosz and his colleagues at Butterfield Elementary in Libertyville, Ill., have the visual learning tools they need at their fingertips to engage students in learning.
In the past, creating visual learning aids was much more cumbersome, Jarosz explained. He would find himself up late at night constructing materials by hand, and struggling with the manual die-cut machine in the school workroom during his planning time. "The VariQuest tools are saving us countless hours of preparation work – we're creating things in the most efficient ways," he said. "Now we can set the tools in motion in the time it takes to run some copies, and everything is ready in a couple of minutes."
With nearly 600 students in grades K-5, Butterfield Elementary is one of five schools in District 70, a district of elementary schools. Superintendent Guy Schumacher, Ed.D., previously the principal at Butterfield, first introduced the VariQuest Visual Learning Tools and has been expanding their use throughout the district ever since. "The VariQuest tools are very 21st century and play a large role in student engagement and achievement in our district," he said.
Creating a Visual Learning Environment
With the VariQuest Cutout Maker, Butterfield Elementary faculty and parent volunteers can, with the touch of a button, cut letters and numbers, manipulatives, curriculum-rich shapes and bulletin board collections from construction paper, cold-laminated construction paper, bond paper, vinyl and magnet – choosing from thousands of scalable shapes, fonts and collections.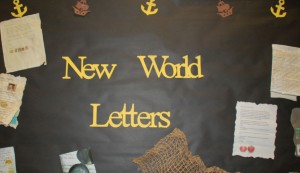 Using the VariQuest Poster Maker, they can create and print large visuals for their classrooms and hallways to reinforce key concepts, encourage cooperative group work and promote school pride, selecting from more than 900 customizable poster and banner templates. In addition, the Poster Maker's scan- to-print technology offers a standalone capability to enlarge a small document, such as a classroom rubric, to poster size.
The Poster Maker, Kehoe said, has transformed how her staff creates teaching materials. She recalls when teachers would make a template and then enlarge it on a projector – a task they would have to repeat each time they used it. "Now, with the Poster Maker, they can create it, write on it and leave it up as an example," she said. "Our teachers are now spending far less time making teaching materials – time that can be spent creating curriculum and delivering instruction."Candice Kehoe, principal of Butterfield, considers VariQuest products "essential learning tools – absolute must-haves," she said. Teachers and staff members went right to work in using them, as did parent volunteers and Family Association members, with minimal instruction, she said. "The VariQuest tools are very intuitive – you just find the 'on' switch and you're on your way."With the VariQuest Awards Maker, Butterfield staff can create awards and other items to be used for recognition or fundraising – including customized award plaques, trophy plates, flashcards, nametags, parking permits, bumper stickers and more – in a matter of seconds using durable thermal transfer printing, eliminating the time and expense of using a print shop.
Making Curriculum Connections
In Jarosz's classroom and throughout the school, students are surrounded by learning materials created with the Poster Maker and Cutout Maker every day. "It's a vibrant learning environment – there are visual reminders of the curriculum everywhere," he said. "I often see my students looking at posters or graphs, jogging their memory."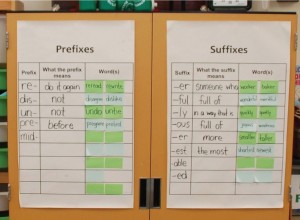 He recently used the Cutout Maker to make alphabet shapes for a math class, asking his students to manipulate and fold the letters to find lines of symmetry. With the Poster Maker, he created a poster to teach a lesson on prefixes and suffixes. In science, he developed a poster showing a beaker, to help students visualize an experiment. He's also used it to display graphic organizers, as well as prompts for writing, vocabulary words and math terms. "When I do read-alouds, my students ask questions about what's happening, sticking notes on the posters as we go. The posters really capture their attention."
In addition, as Butterfield's basketball coach, he creates posters and schedules with the Poster Maker to announce games and practices. "The uses are limitless," he said.
Jarosz appreciates the flexibility in personalizing what he makes with the Poster Maker to meet his teaching needs. For example, he created a poster for students to check in homework, which hangs on the wall behind his desk. "They monitor themselves with it – it's helped them to be more consistent," he said.

Kehoe said she sees teachers using the VariQuest Visual Learning Tools to personalize learning materials all the time. "They challenge themselves more, redeveloping lessons and using creativity in their teaching," she said.
Butterfield assistant principal Andy Elbert said the school's Student Improvement Team recently used the Poster Maker to enlarge a grid to show, at a glance, all of the team's initiatives. "It's helpful for visual learners – for adults and students alike," he said.
In addition, the reference tools created with the Poster Maker and Cutout Maker are uniform, which aids in comprehension, Elbert said. "For example, the reading strategies are all in the same font and format. The consistency is helpful."
Building Community Connections, Bringing Teaching and Learning to Life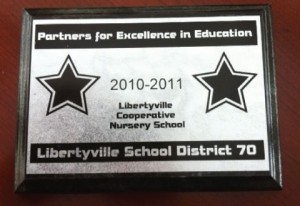 n the district office, administrators and staff are finding numerous uses for the VariQuest Visual Learning Tools. Whether preparing for a strategic planning meeting or communicating math standards across the district, they turn to the Poster Maker. "It's efficient and cost-effective to have it all right here," said Superintendent Schumacher.
To show their appreciation for businesses in the close-knit suburban Chicago community that provide specialized grants through the "Partners for Excellence in Education" program, district office staff create personalized plaques with the Awards Maker. "The business owners love it when we go to their businesses and hand-deliver the plaques – they're spectacular," he said.
Schumacher said he spreads the word about the VariQuest Visual Learning Tools to his colleagues throughout the region. "If you saw how much we use these products, you would know how much we love them," he said. "They bring teaching and learning to life."