Best Cold Laminating Machine for Teachers, Classrooms, and Schools
At VariQuest, we offer a number of different resources and tools to help you improve the ability of students to learn in the classroom. The interactive learning tools for kids and teachers we offer are exceptional for enhancing the classroom experience and improving comprehension and overall knowledge for students in various subjects. One of the tools teachers can use to help students gain important knowledge in the classroom is the cold lamination machine.
Classroom technology such as a cold laminator can help teachers engage in more interactive methods of teaching in order to effectively relate data, information, ideas, and concepts in a clearer and more memorable manner. Our cold roll laminator also produces a wipe-clean surface that is easy to disinfect.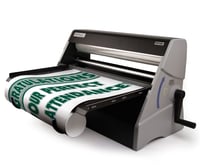 Cold Laminator 2510
You can make banners, posters, and cutouts last longer through the use of our VariQuest Wide Format Roll Laminator. This laminator requires no electricity and it saves time and space with easy-to-use paper loading and output hooks that roll laminated banners and posters automatically. This device can laminate banners 12"x18", posters 25" wide, construction paper 9"x12", and more.
Schools can use our cold roll laminator, the Cold Laminator 2510 to do the following:
Produce laminated posters that can be used with dry eraser markers for activities in small groups
Laminate construction paper prior to producing cutouts, bypassing the need to cut them two times
Laminate in a safe manner without fumes and heat
Benefits of our Cold Lamination Machine
Standard school laminators require warm-up and cooldown of the device. However, since our cold lamination machine does not require electricity or heat, it needs no warm-up and cooldown. You can use our cold roll laminator, the Cold Laminator 2510 safely with the confidence that harmful fumes will be produced. As mentioned previously, the sheets produced by the Cold Laminator 2510 are also easy-to-wipe and disinfect.
You can expect to create long-lasting materials with exceptional durability in just seconds with the crank of the handle with our cold laminator machine.
You can automatically roll laminated banners and posters as they come out through the use of the machine's output hooks.
Interested in pricing for cold roll laminator, or any of our other VariQuest tools, to see how they could be a huge help for students and staff at your school? Let us know here: