Opening Schools Safely: Social-Emotional Wellbeing
How can we support our students emotionally after a tumultuous year?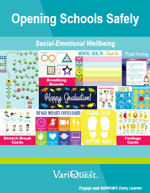 As students start their school year amidst a global pandemic, they likely will need social-emotional support like never before, having had a tumultuous year of social distancing and sheltering at home. We've put together some templates, resources, and lesson plans that we hope will help you ease the transition of welcoming students back to learning, putting their minds at ease and ensuring readiness to learn.
Download this free eBook from VariQuest for:
Poster templates for mental health check-ins (including downloads!)
Ideas and tips for supportive and discussion-generating activities
A social-emotional learning take-home packet lesson plan kit complete with printables
And more!