Ocean Exploration Sensory Path Activity
Complete with activity cards, game boards, sensory path shape templates, and more!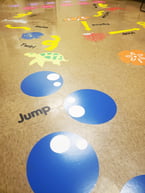 Educators are constantly looking for ways to engage students with changing tastes and a fascination with limitless technology. Expending energy through movement while learning is a perfect way to do that.
Download our latest free sensory path activity from VariQuest, created in partnership with Cathy Henry of Free Word Work and The Curriculum Corner, designed for primary and special education students to practice fluency and learn about the ocean while they move in the classroom!