Download Free Mandala Coloring Posters!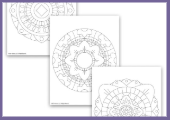 Use coloring as a re-focusing and re-centering activity for those days when the class needs a little extra calm.
Coloring can reduce stress and anxiety in the brain, which makes it a perfect calming activity when a brain break is needed. The mandala, with its geometric, intricate patterns and many drawn spaces, is a great coloring design for all ages students when color and focus are needed to bring calm and fun.