Extended Learning Possibilities for K-12 Classrooms
Lessons and Activities for the Whole Child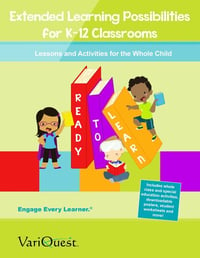 We at VariQuest are excited to bring you this supportive eGuide in cooperation with Cathy Henry, M.S.ED. in Special Education, and partner of The Curriculum Corner, at a time when strategies to accelerate learning are needed most.
In this book, you'll find lessons divided into two parts. Part l applies to all students and provides experiences that involve movement and socialization, while part ll is designed to help students with special needs be successful in a general education classroom.
With dozens of pages of downloadable templates, worksheets, and graphics, you'll find lessons on:
Citing Text Evidence
Identifying Genres
Biography Walks
Independent Reading
And more!