Dinosaur Discovery Sensory Path Activity
Complete with story cards, write the room activities, printable sensory path shapes, and more!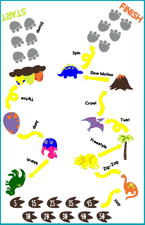 Get your class moving and learn about the Triassic, Jurassic, and Cretaceous Periods in the process!
What kid doesn't love dinosaurs? Download this free sensory path lesson plan activity from VariQuest, created in partnership with Cathy Henry of Free Word Work and The Curriculum Corner, designed for primary and special education students to practice fluency and learn about how dinosaurs lived and walked the earth.
Included with this lesson's printables you'll find 'write the room' activities, 'all about' worksheets, an "I spy" game, and all the shapes and cutouts needed to implement this sensory path in your classroom or hallway!